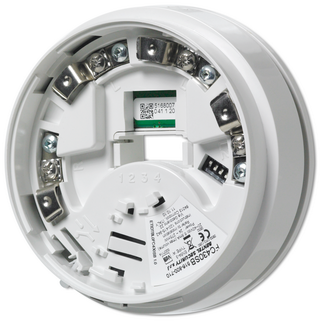 The FC430SB Loop Power Sounder Base provides an additional sounder function on the FireClass 500 control panel.

The FC430SB Loop Powered Sounder Base requires an associated FC400 series detectors, FC430SAB or FC430SAM module in order to operate, as it uses the address of the detector or the module that is fitted to it. The configuration FC430SB with detectors allows only to activate the sounder by his associated detector and could not be activated by zones. For this case you have to use the FC430SAM and FC430SAB.

The FC430SB does not support the detector FC400P.
FEATURES:


Current Draw: 200 μA on standby (typical); 6.8 mA at full volume (90 dBA); 1.2 mA at low volume (68 dBA)
Dimensions (ØxH): 110x37.5 mm (including mounting flange)
Operating Temperature: -25 to +70 °C
Storage Temperature: -40 to +80 °C
Relative Humidity: 95% (non condensing)
RELATED PRODUCTS